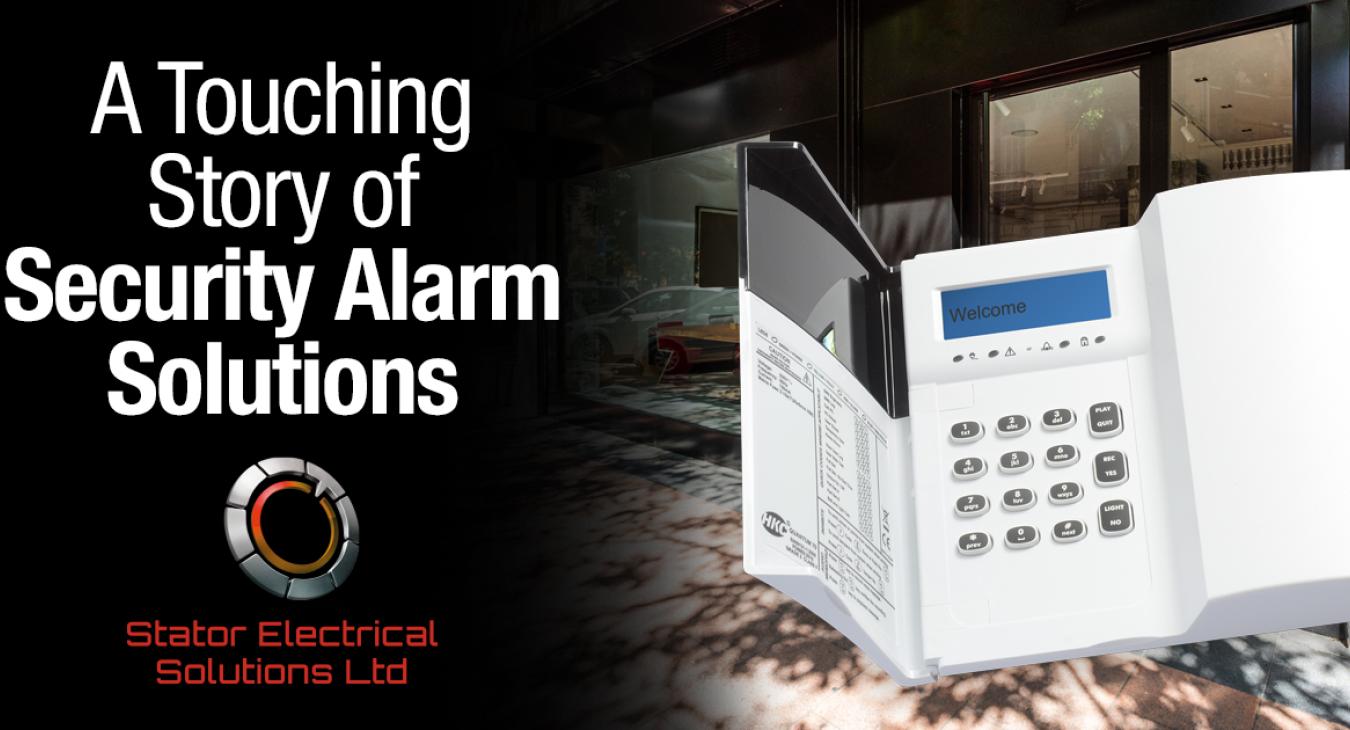 Whether you're in Nottinghamshire, Derbyshire, Leicestershire or the wider East Midlands, ensuring the safety and security of your business premises is of paramount importance. Stator Electrical Solutions Ltd. helps businesses spanning all industries and of all sizes protect their businesses, stock, staff, premises and customers by supplying, installing and supporting all leading commercial security alarm brands and systems.

For East Midlands companies seeking top-notch security alarms, the HKC10270 hybrid system stands out as an excellent choice. In this short guide, we'll delve into why East Midlands companies need to consider implementing security alarms and why the HKC10270 hybrid system is one of our most highly recommended and highly-featured systems. We'll detail the system's features and we'll look at the benefits of its touch keypad and wireless keypad, hence the title of this blog.
Why East Midlands Companies Need To Consider Security Alarms:
Crime Prevention


The East Midlands region, like any, is susceptible to break-ins, theft and vandalism. A security alarm system is a powerful deterrent by making potential intruders think twice before attempting to breach your business premises.

Protection of Assets


Businesses in the East Midlands have valuable assets, equipment, and inventory that need safeguarding. Security alarms not only protect against theft but also help in monitoring and mitigating potential damage due to fire or flooding.

Employee Safety


Ensuring the safety of your employees is a moral and legal responsibility. Security alarms equipped with panic buttons or other emergency features can provide a rapid response in the event of any threat or emergency.

Reducing Insurance Costs


Many insurance companies offer reduced premiums to businesses with comprehensive security systems in place. By installing security alarms, East Midlands companies can potentially save on insurance costs in the long run.
Introducing the HKC10270 Hybrid Security Alarm System
The HKC10270 hybrid system is a state-of-the-art security solution designed to meet the specific needs of businesses across the globe, and of course, in the East Midlands. Here's why it's an excellent choice:
Advanced Hybrid Technology
The HKC10270 integrates wired and wireless components, offering flexibility during installation and ensuring comprehensive coverage for your premises.

Enhanced Security Features
The system includes motion detectors, door and window contacts, and glass-break detectors to identify and deter intruders.
Remote management, monitoring and control
Once installed, your installer or manager can completely control the system remotely, manage users, set parameters, or carry out maintenance and checks in the event of any issues. Set up remote users who can also use the mobile app to arm & disarm, and monitor activity, alarms, triggers and devices.
User-Friendly Touch Keypad
The touch keypad provides an intuitive and user-friendly interface, allowing easy arming and disarming of the system.

It features a bright and clear LCD screen for quick status checks and system adjustments.
Benefits of the Touch Keypad:
Security


The touch keypad allows for secure access with user codes, preventing unauthorised arming or disarming of the system.

Visual Feedback


Users can quickly see the system's status, including which zones are armed or in alarm mode, ensuring peace of mind.

Customisation


Installers, managers and users can easily customise settings and schedules to fit their specific security needs, all this can be done on-site or remotely providing flexibility and convenience.

Wireless Keypad Option


The HKC10270 system offers an additional wireless keypad, allowing you to control and monitor your security system from different locations within your premises. This wireless keypad is a valuable addition for larger businesses or those with multiple entry points.


 
With a team of Security Engineers across Nottinghamshire, Derbyshire, Leicestershire and the wider East Midlands area, all engineers are highly upskilled, customer-focused and regularly criminal-checked. Stator is a NICEIC-accredited electrical contractor, Part P Electrical Safety Scheme-registered, SSIP-registered and is also part of the government's TrustMark scheme. So we're a skilled, reliable and trustworthy team.

To find out more about securing your commercial properties across the East Midlands, click here to speak to a member of the Stator Electrical team now!