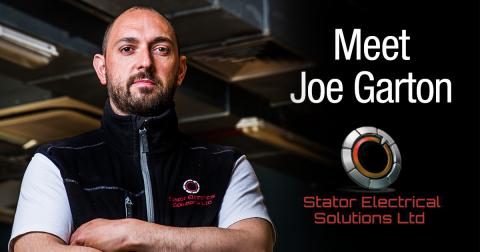 There's a powerful return to business taking place throughout the Midlands.  As Stator Electrical receives more and more enquiries to help facilitate this, our new team member couldn't have started at a better time!

Stator Electrical provides a multitude of electrical solutions for Midlands businesses adapting to the 'new normal'.  From simple electrical jobs, like installing plug sockets, through to socially distanced workstations that enable new ways of COVID-era working; if your organisation has an electrical requirement, Stator electrical has a winning solution. 

Together with Stator's ever-growing array of capabilities, our team is also expanding.  We're overjoyed to welcome our new engineer, Joe, to the Stator Electrical team.  Originally from a luxury retail background, Joe brings an impressive portfolio of skills to the business.  He'll be on-hand to install, test, service and maintain professional electrical systems to the highest standards Stator Electrical customers demand.  Joe is proficient with all types of commercial electrical work, and his passion lies in the ever-progressing realms of electrical vehicle (EV) charging and security systems, sectors that Stator is proud to lead the way in. 

Stator Electrical install and support the latest commercial alarm and CCTV systems.  We also fit the most current (no pun intended) EV charger units, which range from simple 3.7kW units to 22kW devices that require a three-phase charge electrical installation, something more common throughout commercial properties.  "Our key skills lie in understanding the safest configuration of EV charger for each specific location", Joe commented.  "The correct earthing needs to be in place, whether that means installing earth rods, a separate PEN fault device, or perhaps one of the increasing number of EV chargers that come complete with their own O-PEN device". Joe added: "After all, our priority is ensuring the optimum safety of our customers and all who enter their premises".

With businesses requiring adaptations for socially distanced workspaces and home working, Joe's skills will be invaluable as Stator's workload rises whilst the Midlands economy picks up pace.  Joe will of course be following the Stator Electrical ethos of working efficiently and to the highest standards, whilst taking every opportunity to ensure that clients remain informed, safe and happy throughout every step of every job.  

We're proud to welcome Joe to the Stator team and wish him a happy and rewarding career with us.  If you'd like to discuss your company's electrical requirements, why not speak to Joe?  Click here to get in touch.