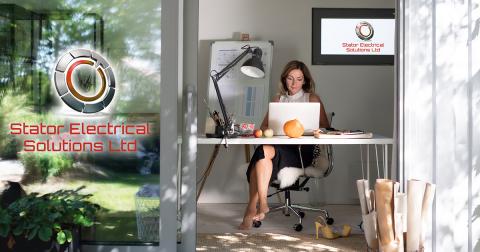 Home-working isn't new, but it's something that 2020 and 2021 have encouraged a lot of business owners and management to seriously consider.  Having demonstrated savings in travel, office space, and efficiency, we've opened our minds to the possibilities of converting our unused outbuildings, or outside spaces that are crying out for an out-building kit.  But how do you ensure your new outside space provides all of the conveniences, gadgets, connectivity, and safety you'd expect from inside your main building?
Follow these simple steps to ensure that your home-working out-building is fully functional, ultra-efficient, and 100% safe:
Electrics
First things first: Stator Electrical Solutions will connect your outbuilding to your mains electricity supply, a green energy solution, or a combination of the two
Wiring will be safe, compliant, and complete with a dedicated Consumer Unit (also known as a distribution board) and circuits
 
Alarms Systems for Home Working
Stator Electrical Solutions can provide a bespoke alarm system that can be fully controlled and monitored from your main building.  Wireless systems provide enhanced security, even over a large range
SecureComm Cloud will provide you with remote access to your alarm system
A mobile app will deliver alarm alerts, images, and messages.  Plus, you'll also be able to arm your alarm remotely!
Home-Office CCTV Solutions
As well as the leading consumer CCTV camera systems, like Ring and Nest, we specialise in professional CCTV systems
Analog High Definition (AHD) CCTV camera systems connect using coax cable to DVRs and other storage devices
Internet Protocol (IP) CCTV Cameras, like webcam-style digital cameras, transmit their data over a network i.e. the Internet
All professional camera systems are available in a variety of bullet and dome housing, with lens, storage and aspect options
Your IP CCTV system can be configured in conjunction with desktop computer monitoring options, as well as smartphone app options for all-around ease of access
Internet - Hard and Wireless Connectivity
Weak and unstable wifi can be boosted using additional wifi access points
We can install wired network points where data and communications are required most
Hot Tubs
Did you say hot tubs?
Many of our clients have seized the opportunity to make the most out of their outhouse electricals
Stator Electrical Solutions can install the hot tub you truly deserve: Unwind after a hectic day of homeworking
We can also install all elements of home entertainment, from home cinema systems to gaming systems
So in a nutshell, your home-working outhouse and home office are limited only by your imagination.  No matter the electrical demands of your property, Stator Electrical Solutions has the experience and know-how to ensure your space is ergonomic, efficient, safe and secure.  
To discuss your ideas and requirements, speak to a member of our team now!