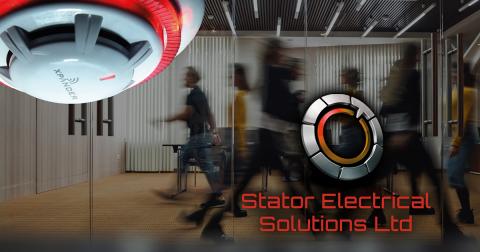 Like intruder alarms and CCTV systems, there is a multitude of fire alarm systems and accessories available to help protect your business premises and all who frequent them. Stator Electrical Solutions supplies and installs an array of smoke, heat and fire detectors, as well as audible and visual alarm units. We also support clients throughout the lifespan of their system, ensuring their optimal efficiency and reliability through testing, servicing and maintenance services.
This short article helps examine and compare some of the key components of the fire detection and alarm systems available.
Fire and Smoke Detector Systems
No matter the size, layout, or purpose of your business unit, we can provide and install a suitable selection of smoke and fire detection units.  
Beam Detectors: Beam detectors detect smoke in large open areas like atria, warehouses, theatres and churches. We can set your beams to varying 'obscuration' settings. As a guide, 35% is the best for most factories and warehouses. 20% for offices and 'clean areas' such as theatres. And then 50% for 'hostile' environments, such as mills or foundries
Optical Detectors: As their name suggests, optical smoke detectors (otherwise known as photoelectric smoke alarms) 'see' smoke, using the 'light scatter' principle
Ionisation Detectors: These detectors work by 'ionising' the air between 2 electrodes which are positively and negatively charged within a chamber. If smoke enters the chamber, its particles change the balance of a current, thus triggering the audio and visual alarm systems 
Duct Detectors: Essential for detecting smoke early, Duct Detectors sample the air in air duct systems
Flame Detectors: Flame detectors respond to low-frequency radiation to detect flickering flames, including those invisible to the naked eye
Manual Call Points: As the title suggests, manual call points allow for human activation of alarm systems through 'smash glass' button systems, or pull stations, ideal for working environments that are regularly occupied
Audio Visual Signalling
This includes a variety of sounders, or alarms, as well as visual indicator bases that display lighting in the event of a fire hazard. Stator Electrical Solutions also supplies and installs small, discrete remote indicators that can be placed just about anywhere throughout your premises.
Visual Alarm Devices: As well as sounding an alarm, Visual Alarm Devices can also flash with a white and red flash colour
Signalling Sounders: Fire alarm sounders are suitable for intrinsically safe signalling for fire, security and process control. Various evacuation tones and secondary and alert tones are set at varying volume levels
Base Sounders: Local-area sounders designed for indoor use
Sounder Visual Indicators: These alarm devices comprise a sounder, a beacon, and a short-circuit isolator
Visual Indicator Bases: Loop-powered visual indicators with a standard intelligent Mounting Base: ideal for signalling a fire alarm in enclosed areas
Remote Indicators: These small units can be attached at any location throughout your premises. Featuring a red LED indicator for use in fire protection systems
Testing, Servicing and Maintenance
Throughout the year, you'll want assurances that your fire alarm systems are in optimal condition, and that's where our testing, servicing, and maintenance services come into the equation. To ensure your premises are fully protected at all times, and that your systems and premises exceed all relevant and current fire legislation, Stator Electrical Solutions will visit your premises periodically to test all devices, make any necessary changes, and replace any parts onsite.

To discuss your premises and how fitting a bespoke fire alarm system will protect your workforce, the public, stock, as well as your premises, click here to speak to a Stator Electrical Solutions fire safety expert now!