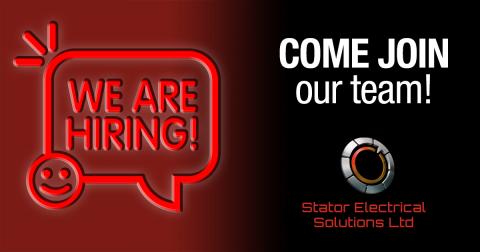 Thanks to providing reactive professional electrical services throughout COVID, and our 'all hands on deck' approach towards enabling Est Midlands-based businesses to adapt to new ways of working, Stator Electrical is hiring.

Stator Electrical is a fair, honest, reliable and forward-thinking electrical business, installing, servicing and maintaining electrical installations for all kinds of East Midlands businesses.  From rewires and circuitry to PAT testing.  From simple plug and light socket installation to reconfiguring workspaces to accommodate greater social distancing.  We also enable light industrial, manufacturing and engineering organisations to integrate modern machinery through installations and circuitry upgrades.

With an increasing workload, now is the perfect time to join our team, make your mark and help facilitate this exciting growth period.  If you're a driven electrician who is enthusiastic to learn and implement the latest legislation and best practices, then this opportunity could be ideal for you.  If you live around the Derbyshire and Nottinghamshire area, you'll reap the benefits of working locally and with a supportive and friendly team.  Our engineers take pride in communicating honestly and effectively from the start of any project, keeping customers up to date on the progress right through to completion.  Because of this, Stator Electrical engineers are well-supported and receive competitive pay.  
Support Staff Positions:
Stator also requires support staff to work on customer care, as well as office and administration duties.  If you have a passion for ensuring our customers receive a first-class service and you work well as part of a team, this opportunity will be ideal for you.  Stator Electrical offers a friendly and supportive working environment with highly competitive remuneration packages.
What Next?
If you'd like to play your role in this expanding, ambitious and ethical electrical company that provides value to customers and staff at every opportunity, then send us your CV and a short video telling us why you think you're the right person for the job!  Email info@stator-electrical.co.uk.