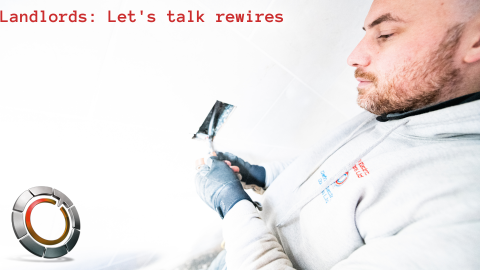 Stator Electrical have been working on a number of rewire projects for landlords in Nottinghamshire and Derbyshire across the winter months. These have been a mixture of HMO properties and individual dwellings. Not only will a rewire improve the safety and the efficiency of the electrics in your rental property, upgraded and modernised electrics can also attract premium tenants as well as reduce the likelihood of future repair bills. In this blog post we will try to answer some of the most frequently asked questions about rewires for landlords.
Does my rental property need a rewire?
Due to the eventual deterioration of electric cable over time, it is recommended that electrical installations are replaced every 25 years.  Modern installations are expected to last a little longer than this due to improvements in materials but if your electrical installation hasn't been upgraded in a couple of decades, it might be time to look at a rewire.
A HMO rewire may be recommended sooner as regulations change more often and need to be adhered to, as well as the need for higher grade smoke, fire and carbon monoxide detection and emergency escape lighting.
Other signs that the electrics aren't up to standard are if your tenants are reporting frequent electrical issues to you, such as flickering lights or regular power tripping incidents. These suggest that there are issues with the electrics in the property.
As a landlord you are obligated to get your electrics checked over every 5 years with an Electrical Installation Condition Report (EICR). If there is a long list of remedial work to be done, a rewire might be a good alternative.
What happens during a rental property rewire?
Our electricians replace all of the wiring and distribution equipment in the property during a rewire. Distribution equipment refers to such things as consumer units and circuit breakers. A rewire replaces just about everything that is installed after your electricity meter. We replace the cabling that carries power around your property as well as accessories such as sockets and light fittings. Prior to a rewire, it is recommended to take a good look at how your tenants may wish to use power in the property so that you can make any alterations such as extra sockets in popular areas or wiring for a new shower, or outdoor sockets and lighting that the tenant may expect. A rewire will modernise your electrical installation and bring it up to current safety standards, but also ensure that it meets the needs of your tenants.
During rewires, we have a 'first fix' and a 'second fix'. The first fix sees our electricians running in all the required cabling for lights, sockets, and switches as well as chasing in all the back boxes and cable channels into the plaster. After the first fix, a plasterer will need to come and plaster over all the exposed brickwork or make good plasterboard walls and ceilings where impacted. After that comes the second fix where our electricians install all switch and socket face plates and lighting fixtures along with the consumer unit. Once complete, the installation is certified and registered with building control under the Part P requirements.
How can I prepare my rental property for a rewire?
This is a job best tackled between tenants. It is dusty, messy and noisy and your tenants will be left without power for prolonged periods. We always provide temporary power during a home rewire but this is more for the site conditions and requirements of our electricians and other trades than for normal everyday use by the tenants. This means you will likely be fielding complaints from your tenants about the impact of the works on their lives, or you might be stumping up the cost to relocate them for the duration of the rewire. An empty property, without furniture or occupants, is ideal for a rewire because it means that our electricians can have the floorboards up and access all the wall space they need to without causing a problem for any occupants.
Of course, sometimes the timing of a rewire just can't be helped and in those situations, our electricians will be as sensitive to your tenants' requirements as possible – but it is still going to be messy, dusty and noisy and without power for long periods of the day.
How much will it cost to rewire my rental property?
We don't have a fixed price for a rewire. Prices depend on the size of the property as well as the scope of alterations and additions that you may require. However, the cost is likely to be around the £6,000 mark. However, please note that this is just a ballpark figure due to the individual nature of each rewire project and the requirements for each property – the actual cost would be determined after a site visit by Stator Electrical, after which we would prepare a thorough quote.
How long does it take to rewire a rental property?
The first fix usually takes around 5 days for unoccupied properties, depending on the size of the property and the complexity of the installation. If the property is occupied and we need to work around people and furniture, it can take longer because of the additional effort to gain access to wall and floor space as well as the need to ensure there is a power supply at the end of each day. After the first fix and the plasterers have made good the walls and so on, the second fix can take a further couple of days.
Because Stator Electrical Solutions is a NICEIC-approved contractor, we are able to certify the completed rewire for you and notify your local building control department. If you think it is time to rewire your rental, give Stator Electrical a call on 0115 647 0335 and we can talk you through your options.