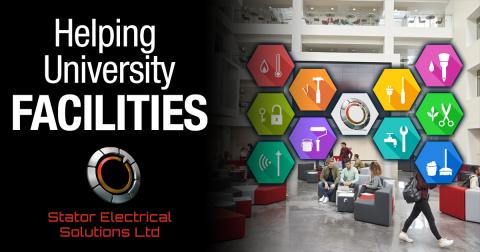 Ensuring the safety of students throughout UK universities is paramount, and an increasing number of FacilitIes Managers and on-site Electrical Engineers at South Yorkshire and East Midlands universities now entrust their electrical compliance testing and general electrical work to Stator Electrical Solutions. This is thanks to Stator's expanding team, skillset, and pursuit of best-practice and safety standards.

A particularly busy time of the year approaches university, college, and school Facilities Managers. Over the summer months, they need to drive their maintenance teams to ensure all facilities are made safe, and to fit out an array of new study and accommodation areas, including their electrics. Comprising an ever-growing and highly qualified team, Stator Electrical Solutions has a commercial electrician within easy reach of all South Yorkshire, Nottinghamshire, and Derbyshire universities, colleges, and schools. An NICEIC-approved organisation, Stator Electrical Solutions provides high-quality electrical compliance, electrical installation, as well as all supporting maintenance and support work, exceeding the requirements of the government's Qualified Person Program. 

As a bare minimum, all work with electricity throughout all learning establishments must conform to the Electricity at Work Regulations Act 1989, a standard based on the fundamental principle that all precautions must be aimed toward reducing the risk of contact with unprotected conductors of electricity at hazardous voltages. But Stator Electrical's capabilities and competencies far exceed minimum safety requirements. Although all team members are trained to ensure that every job excels in safety standards, there's a team member who specialises in every area of electrical equipment, from installation, and right through to maintenance and support.

As well as being an NICEIC-approved contractor, Stator Electrical is CSCS-registered, compliant with Part P Electrical Safety, is a member of the Electrotechnical Certification Scheme, is part of the Safety Scheme in Procurement initiative, and is TrustMark approved. As if that's not enough, our SSIP provider is SafeContractor registered. To fully ensure the safety of all using university, college, and school facilities, as well as being highly qualified, the Stator Electrical team is criminal checked, making Stator the number one choice throughout the East Midlands and the wider area.
To discuss electrical compliance throughout your site, or your plans to refit or install accommodation or study environment electricals, get in touch with Stator Electrical Solutions. Our engineers will talk you through how your requirements will be met. You'll gain an accurate idea of job specifications, timelines, costs, and ongoing support and maintenance provisions. So if you're a Facilities Manager or an onsite Electrical Engineer who's determined to enter the new academic year triumphantly, speak to a member of the Stator team now!