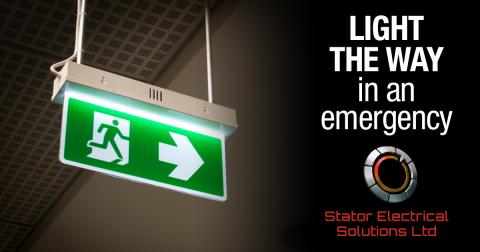 Shorter daytime and darker nights are just one reason to address your organisation's emergency lighting. In the event of your mains power and standard lighting being compromised, can you be sure that occupants will have adequate lighting to enable them to safely evacuate your premises?

Stator Electrical engineers help organisations throughout the East Midlands to ensure they conform to Article 14 of the Emergency Lighting Regulations which stipulates "Emergency routes and exits requiring illumination must be provided with emergency lighting and adequate intensity in the case of failure of the normal lighting".  So ask yourself, should your premises have an emergency lighting system and if they do have one, when was the last time it was checked by a professional electrician?
The three key areas of emergency lighting are:
Escape route lighting: Lighting that activates to enable rapid and safe evacuation of any premises.  Lighting may be situated in stairwells and close to fire-fighting equipment
 
Open-area or anti-panic lighting: This type of lighting is installed within large public buildings such as hospitals and shopping centres especially to help occupants unfamiliar with the building to navigate escape routes, therefore, minimising any panic
 
High-risk task area lighting: This is a specific kind of lighting that is used to ensure safety within a potentially dangerous situation or process that could enable shut-down procedures for the safety of occupants
Stator Electrical provides Maintained and Non-Maintained emergency lighting.  Maintained lighting is lit at all times and is used in large public buildings like theatres and cinemas where the lights can be dimmed when occupied, with the lighting preventing total darkness, thus allowing for escape when required.  Non-maintained emergency lighting is a typical mode used in a workplace or public space where artificial lighting is normally used when the building is occupied.

It is important to bear in mind, though, that UK fire safety legislation stipulates that emergency lighting must undergo a full test once per year and be what is known as 'flick-tested' at least once per month. A report for said testing must be provided by the testing organisation to verify functionality and that they last for the required time on battery backup. 

There are some superb emergency lighting systems available and most centre around a system that features a battery that charges from the mains on a day-to-day basis.  This ensures that they charge to high capacity for if-and-when the lighting is required. Like all electrical systems, they need periodic testing.  As well as supplying and installing an array of the latest emergency lighting systems, including emergency escape lighting and standby lighting, Stator Electrical engineers can also service and provide ongoing maintenance for all existing installations, ensuring your organisation guarantees the safety of all who visit. 

So to ensure that your premises are both safe and legal, a Stator Electrical emergency lighting engineer is ready to discuss your requirements. Click here to get in touch now!