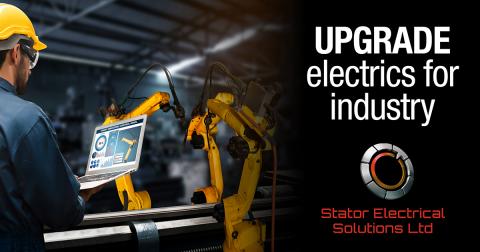 Light industrial, manufacturing and engineering businesses throughout the Midlands are not only reconfiguring workspaces and shop floors to adapt to COVID-era working, but the revving-up of business means production upgrades too.  As companies return with a vengeance, Stator Electrical is helping organisations across the region to upgrade their circuitry in order to facilitate equipment upgrades.

With new machinery and equipment comes new electrical requirements.  Stator Electrical has recently helped a number of businesses, including a commercial dishwashing company to take their businesses to the next level.  When the company's Business Services Manager oversaw an upgrade to machinery, he turned to Stator Electrical to implement mains changes along with fault detection and surge detection capabilities.  The result is an electrical system that is more than capable of powering and protecting valuable new equipment, as well as safeguarding all staff and site visitors from electrocution and fire risks.

Stator Electrical performs all types of electrical updates, from simple lighting and electrical sockets to major circuitry upgrades.  Our engineers can reach most organisations throughout Derbyshire, Nottinghamshire and Leicestershire and have experience implementing wiring and circuitry for all kinds of industrial machinery.  To discuss your upgrades, a Stator Electrical Engineer is ready to take your enquiry now! Click here.