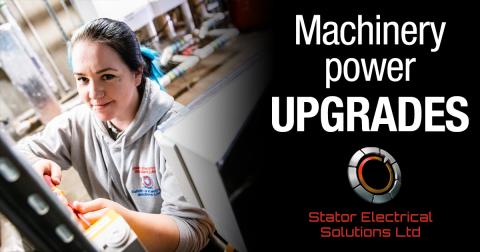 The East Midlands is regarded by many as an engineering and manufacturing hotspot. With some major players across the region, the area is also home to some truly trailblazing medium and smaller-sized organisations. The post-COVID pick-up in demand, together with developments in technology and demands for equipment spells greater demands on many organisation's electrical systems. And that's where Stator Electrical Solutions comes into play. Stator Electrical is a leading East Midlands Commercial Electrical company.

With an increasing market share, Stator also boasts an expanding workforce, comprising some of the highest qualified and most experienced Commercial Electricians in the East Midlands region. Stator team members all share the following qualities: a passion to stay ahead of current legislation and technological developments, and a commitment to provide customer-first work: not only ensuring the safety of clients, but guaranteeing that they're provided with a fair and transparent service right from the start, throughout the duration, and until the end of every single job Stator Electrical takes on.

When an organisation requires new equipment, Stator can, not only perform the installation work, but can also ensure that electrical systems are up-to-date, safe, and capable of comfortably taking on new electrical load. Whether this is new equipment and machinery, or an upgrade to existing machines, it might be the case that an upgrade to your electrical systems and circuitry is required.

New business units also need to be rendered safe and made functional.  From wiring and circuit boards requiring an upgrade, to bare units requiring fitting out, a member of Stator Electrical is within easy reach of all towns throughout the Nottingham, Derby, Mansfield, and Chesterfield regions.

As your brand name gains momentum and equity, make sure you align it with a name that complements yours when it comes to your commercial electrical supplier. Stator Electrical is an NICEIC-approved contractor, is Part P Electrical Safety-accredited, and is part of the Electrotechnical Certification Scheme. In addition, Stator is TrustMark-accredited, is Safety Schemes in Procurement-registered SSIP via the SafeContractor system, and all staff members are committed to benchmarking, best-practice, training, and schemes that keep their skills up-to-date.

Whether your business is acquiring new premises, upgrading older buildings, or sourcing new or upgraded machinery and electrical items, a member of the Stator Electrical team can be with you in no time. A short inspection of your premises, its current electrical installations, and any existing, new and forthcoming equipment will enable our team to provide you with the safest, most efficient electrics that will see your organisation move safely into the future.  To speak to a member of the Stator Electrical team, click here!