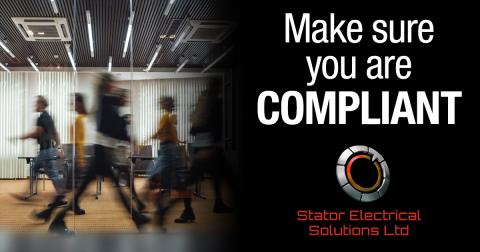 Compliance is a word banded around both businesses and homes, but what exactly does it mean and how do you achieve it? Well, your insurance may depend on having it, and without sounding dramatic, so too might the lives of people using your premises!

Electrical compliance certificates confirm that the electrical installations within a building meet the relevant legal standards for safety. Your circuits, appliances, and all electrical works must be compliant with the 18th edition of BS 7671 electrical safety standards.  BS 7671 is the 18th edition and the current standard used in the UK. It came into effect from 1st January 2019 and is the national standard used for electrical installation and wiring safety across domestic, commercial, and industrial properties.

Another key area of electrical compliance focuses on the private landlord sector. From 1 June 2020 landlords must have the electrical installations in their properties inspected and tested by a competent and qualified person and at an interval of no more than every 5 years.  As an EICR-accredited electrical company, Stator Electrical will conduct a test to ensure that all electrics are to the afore-mentioned electrical standard and supply the report for you to show to tenants and occupants.

Stator Electrical engineers are trained to the highest industry standards and are fully conversant in all areas of electrical legislation and compliance.  With an engineer within a stones-throw of Derby, Nottingham, Chesterfield, and Mansfield, why stay in the dark when it comes to electrical compliance?   To find out more on how you can ensure your properties exceed all legal requirements, speak to a member of the Stator Electrical team now!