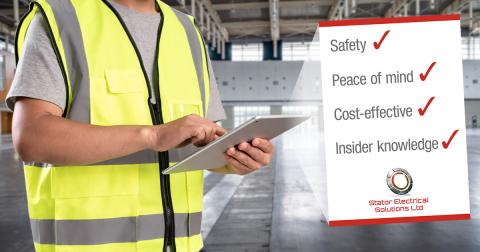 In the Commercial or Industrial sector, it is essential to hire a professional electrical contractor.  From lighting and appliances to computer systems, the average commercial or industrial building relies heavily on electricity.  Although it may sometimes seem tempting to ask a friend or hire a handyman to help with an electrical repair, you could end up facing lawsuits, causing fires or even injury and death if something is installed incorrectly. 
Poor wiring and low standard equipment are leading causes of electrical faults, so any electrical work is always best left to the professionals.  Here are some other reasons why hiring a commercial electrical contractor is so important:
Safety
Electrical safety is vital, for both employees and any building itself and getting the job done by an experienced professional is the best way to ensure it is so.  An approved and qualified electrician can handle and job and has the relevant tools and expertise to know the best way to solve any problem. 
Guaranteed for peace of mind
Any work undertaken is completed to the highest standards with an insurance backed guarantee, which ensures that all of the required legislation and guidelines are met. It is also advisable to choose a registered electrician e.g. the NICEIC Approved Contractor Scheme. A professional company will also make sure their operatives are fully trained and hold up to date certification in their implementation, giving you complete confidence.
Cost
Hiring a commercial electrical contractor is actually a cost effective option.  They will carry out the job with the minimum amount of disruption to prevent as much lost custom or production as possible. Time is money for your business.  They also have all the tools required for the job, meaning you won't have to purchase equipment and perhaps most importantly, the job will be done properly and professionally meaning damage on devices will be reduced and the need for future intervention minimised.
Insider Knowledge
When you hire a professional commercial electrical contractor, you are also benefitting from all their experience and knowledge.  They will be well aware of all the latest solutions and efficiencies available, and can recommend ways to save electricity.  They will be armed with tips on how to make the most from your system and can navigate you through each repair or upgrade giving you options and suggestions.
Here at Stator, our experience shows that our customers' satisfaction should be placed as the top priority.  Our team is committed to keeping sound working relationships with each client and any prospective clients.
Please don't hesitate to call us today if you have a question or wish to enquire about our services.