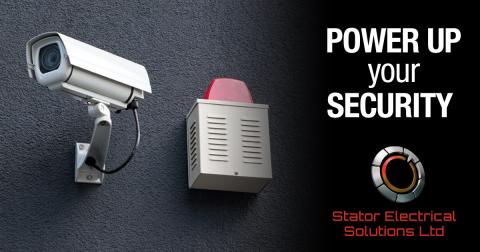 Issues surrounding security of premises are paramount for most business owners, whatever the nature of your business may be. Whether you have a retail business or your premises are used for manufacturing or warehousing purposes, here at Stator Electrical we know that keeping your staff, customers, premises and stock secure is incredibly important and we have helped businesses across Nottinghamshire and Derbyshire to install security systems that meet their needs and budgets.
What components make up a security system?
Depending on the needs of your business and your budget, your commercial security system will contain some or all of the following electrical components:
Control panel: this allows you to activate and deactivate the alarm as required, usually with a passcode. Depending on your needs, you may have this connected to an external monitoring company who will respond if your alarm is triggered. Some panels will allow you to manually activate the alarm if you see something worrying on your CCTV.
Siren or alarm: this sounds if the security system is activated by an intruder once it has been set on.
Floodlights: these will flood your outside areas with light when activated by movement, allowing you to see what is happening outside even if dark. They can also act as a powerful deterrent to potential intruders who might prefer the cover of darkness.
Internal and external motion sensors: if these sensors detect any movement, either inside or outside your premises, once your alarm is activated they will alert the control panel and alarm.
Entry point sensors:  these are two-part sensors which attach to your external doors or access points. One part of the sensor attaches to the edge of the door and the other to the frame. When the door is closed, they create an electrical circuit – if that circuit is broken by an intruder opening a door, the siren is triggered.
Glass break sensors: these are actually sound sensors, which pick up the sound frequencies closely associated with the sound made by glass breaking. If the sensor picks up these sound frequencies, it will activate the siren. If you have retail premises with large display windows, these may very well be high up on your wishlist.
Security cameras:  as discussed in our previous blog entries, these allow you to view and record any activity inside or outside your property, depending on where you locate the cameras. Retail businesses or those premises which contain high value items may decide that these are a priority.
Does my commercial security system need to include all of those components?
The nature of your business will, no doubt, determine some of your requirements.  Businesses which routinely carry high value assets will require a far more complex security system, which will not only keep your business as secure as possible but also meet any expectations your insurers may have about the security of your premises. Meanwhile, retail businesses will often require a good network of security cameras to deter theft.  You may wish to consider the number of access points to your commercial premises or the number of employees or members of the public who visit your business as these could all help to determine the scope of your security installation.
If you would like to discuss your commercial security requirements in more detail, get in touch with Stator Electrical. We have many years of experience installing security systems for businesses across Nottinghamshire and Derbyshire, and we are sure we will be able to customise a commercial security system to meet all the needs of your business.