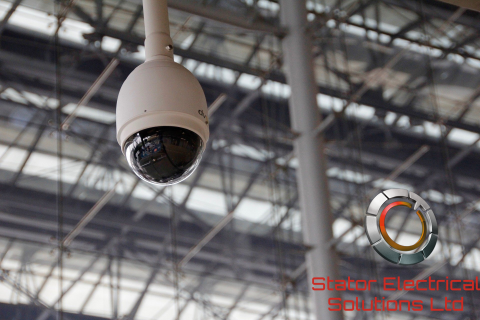 It is an unfortunate fact that one thing we're not seeing shortages of recently is crime. Whilst crime against domestic premises has seen a downward trend as a result of the move towards homeworking, commercial and industrial premises remain a target for thieves and other criminal activity. Here at Stator Electrical we are taking a closer look into security systems and how we can help businesses across Nottinghamshire and Derbyshire take the best steps to protect their employees and their premises. Over the next few weeks, we're going to look at all aspects of commercial security and we kick off by looking at CCTV and security cameras and how to install the best fit for your commercial requirements.
How can I make sure I get good clear images rather than the blurred ones I see so often?
The clearer the image the better in order to be able to help the police and your insurance company should you unfortunately be the victim of a crime on your premises. This means that you need to pay attention to the resolution offered by different models of camera. You shouldn't really consider anything with a resolution below 720p, which will provide you with reasonably clear images but if there's a little more wriggle room in your budget, you would be advised to look at cameras with a 1080p resolution. These will provide you with far clearer and more detailed images and this popular resolution works well with most viewing and storage systems.
If your premises contain lots of high value equipment, you may wish to consider a camera with 4K Ultra HD resolution.  These provide extremely clear images but they do have the downside that they require a very strong network connection in order to stream without lagging. They also take up a large amount of data in terms of storage for your images, which may prove to be costly. However, unlike in most domestic settings, this may be a cost that you are willing to bear dependent on the nature of your business.
One last thing to consider is the 'field of view' range of the camera. The wider the field of view, the more the camera can see of your outdoor space and while this is something to consider whatever the size of your commercial or industrial premises, the larger the space the wider field of view you will wish to consider.
Our premises are most often targeted after dark – how can I make sure I get the best night images?
The cover of night is the ideal time for criminals to strike, not only because most commercial and industrial areas are far quieter, perhaps even deserted, but also the darkness provides them with extra protection from detection. To counteract this, most modern security cameras are able to provide good night-time images using IR (Infrared) light. However, Infrared cameras will only produce black and white imagery – if you want colour night-time images, you will need to choose a camera which uses 'white light' lighting which will provide you with good quality colour images, even when recorded in the dark.
What is the best way to store my CCTV images?
Many domestic customers are happy to use cloud storage, which stores their security camera footage for a set number of days, usually seven. However, it is more common for commercial and industrial customers to require their security footage to be stored on site and often for longer than a week. This may mean that you will require your own onsite data storage solutions, such as viewing screens and a server to store your images. It is also likely that, as a commercial customer, you will require a larger number of cameras which may make it a more cost-effective solution to look at bringing your storage capacity in-house. An additional benefit of using your own storage is the extra level of security it brings as it reduces the risk of hacking that you may have if you choose cloud storage.
Is a movement detecting camera or one that records all the time the best option for my business?
Security cameras used in domestic settings are usually motion sensor cameras that only record when they detect movement, and these are perfectly suitable for most domestic settings. However, continuous video recording (CVR) cameras can often be a better solution for commercial and industrial settings. Because they record 24/7, they have the advantage of allowing a business owner to go back and view all activity occurring around the property. If your property contains a number of high-value items or equipment, you may decide that the added security of this option works best for you. Of course, they do have the downside of the greatly increased storage space they require so you will need to take this into account if you choose this option.
Finally, are wired or wireless cameras the most suitable for my premises?
There are a proliferation of wireless cameras around these days and they are certainly an option for commercial settings, with the advantage of requiring far less installation time. In a domestic setting, they are often a great option. However, commercially, a wired solution will give you far greater reliability. They don't suffer from network interference and they are a secure and dependable solution. Wired cameras are also better suited to large installations of the sort most commonly found in commercial settings. However, when going with a wired installation, you will need to take into account that there will be a longer installation time required and it will be more invasive due to the wiring and cabling requirements.
Whatever your commercial or industrial security needs, you can be assured that Stator Electrical will work with you to design, supply and install a security camera system which is suitable for your requirements, taking into consideration both level of protection and cost. Our engineers at Stator Electrical have a wealth of expertise in installing security systems in businesses across Nottinghamshire and Derbyshire so you can be assured that the protection of your commercial or industrial premises will be in safe hands.