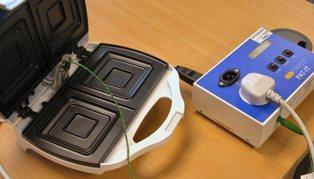 Portable Appliance Testing, or PAT testing is the term used to describe the examination of electrical appliances and equipment to ensure they are safe to use. The purpose of a PAT test is to prevent electrical accidents in the workplace. 
There are many myths that surround the world of PAT Testing so here are a few commonly asked questions:
What does it involve?
A full PAT Test should include both a visual examination and a more in-depth check using specialist equipment.
Most electrical safety defects can be found by visual examination but some types of defect can only be found by testing.
At the end of a PAT test, every appliance should be marked as Passed or Failed.
Is it a legal requirement?
PAT testing is not in itself required by law. 
The law does require, however, all employers (including self-employed) to ensure that their electrical equipment is safe and properly maintained in order to prevent danger.  They also have a legal responsibility to ensure the safety of employees and the public.
Due to the fact that PAT testing is one of the most effective ways to do this, it has become a standard way of meeting this legal obligation.
Employers can take a risk-based approach, considering the type of equipment and what it is being used for. If it is used regularly, e.g. a kettle, then testing (along with visual checks) could be an important part of an effective maintenance regime giving employers confidence that they are doing what is necessary to help them meet their legal duties.
Who is responsible for electrical appliance safety?
The responsibility of safe appliances lies with the person who is the duty holder; this could be a business owner, landlord, equipment user, or manager of a premises.  In larger businesses, a "competent person" is often appointed by the employer, who ensures the company is compliant as part of their role.
PAT Testing does not just apply to standard offices, but any workplace that has portable electrical appliances.  E.g. Beauty salons, gyms, hotels. 
PAT Tests are also a good way for Landlords to ensure that they are maintaining high standards of electrical safety in their properties.
Who should carry out PAT Testing?
As with all electrical work, PAT Tests should only be carried out by people who have the necessary knowledge, skill and experience needed to avoid danger to themselves and others. Many registered electricians will carry out portable appliance testing.
Do I need to keep a record of PAT testing?
Legally, there is no requirement to label or keep records of equipment that has been inspected or tested.
However, labelling and keeping records can be a useful management tool for monitoring and reviewing how well the maintenance scheme is working – and to demonstrate that a scheme exists.
What are the risks of not doing PAT testing?
The UK Health and Safety Executive along with insurance companies will expect you to perform PAT testing to ensure that you are compliant with certain regulations.
Depending on the severity of the situation, the penalty for not meeting legal obligations on electrical appliance safety can be as high as 2 years' imprisonment, as well as an unlimited financial penalty.