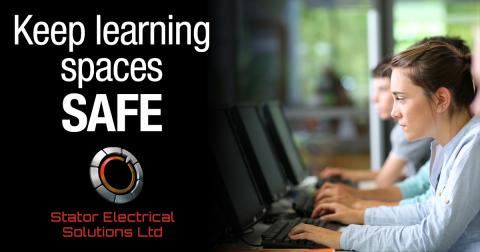 Universities across the Midlands and South Yorkshire are approaching exam time and dissertation submission deadlines. Then soon after, it's time for learning establishments to focus on winding down, shifting their focus to refurbishments, administration, and of course, maintenance.

Stator Electrical Solutions proudly assisted a number of universities, colleges, and schools, from Northampton, right up to Sheffield, to emerge triumphantly from COVID lockdowns with safe, adapted working, learning, and living environments. From COVID-friendly workspaces to halls of residence, to lighting and security systems, Stator Electrical's highly-qualified and CRB-checked engineers were on sites across the region in no time, and remain on call as part of ongoing maintenance and inspection contracts.

As summer downtime approaches, Stator Electrical's EICR-accredited engineers are ready to schedule electrical inspections and testing throughout the spring and summer months, in time for a safe entry into the 2022-23 autumn semester. University campuses, colleges, schools, and halls of residence all have inspecting and testing requirements. As well as PAT-testing workstation and dormitory electrics, from computers to printers and smart monitors, Stator Electrical engineers are fully qualified to provide periodic testing and inspection of all building wiring and circuitry. As electrical load demands change, and as electrical items and circuitry age and wear, periodic testing ensures that your working, learning, and accommodation environments remain safe, compliant, and up-to-date with all current legislation, and comply with insurance stipulations and demands.

Fixed wire testing, otherwise known as Electrical Installation Condition Reports (EICR) requires checks on your electrical installations, circuits, and wiring, ensuring that they conform to the latest regulations.  The Stator Electrical Solutions team is EICR-accredited, and all engineers manage relevant electrical work putting safety and client satisfaction first, communicating job requirements, work progress, and costs clearly, fairly, and consistently throughout any job.

As Stator Electrical's client base continues to expand, so too does its team of highly qualified Commercial Electrical Engineers. Having recently taken on new Electricians and Apprentices in tandem with a significant gain in East Midlands market share, a Stator engineer is within easy reach of any learning establishment throughout Birmingham, Nottingham, Chesterfield, Derby, Mansfield, and Sheffield. To ensure that your learning establishment enters the autumn term in tip-top electrical shape, speak to a member of the Stator Electrical team now!