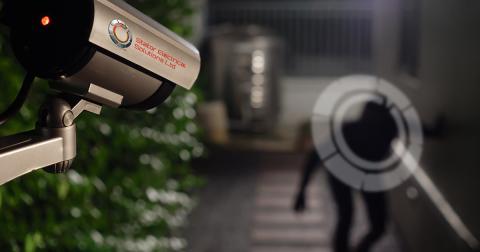 As business owners, lockdowns have taught us a few things: A proportion of our workforce can continue to work from home. But also, with staff onsite less often, CCTV has never been a more appealing addition. But what is the best type of CCTV for empty business units?


CCTV has come on 'leaps and bounds' in recent years. However, the main differences between the varying types of CCTV lie in a: the way the camera units relay their footage i.e. to storage devices, or live broadcast over networks, and then b: the type and style of the camera housing units and lens types, and c: the technology behind the camera. Technology includes the numerous recording and storage options, mobile device connectivity and remote monitoring, and even what's referred to as 'deep learning' which encompasses human and vehicle detection and recognition.


AHD CCTV
Cameras AHD CCTV cameras (Analog high definition) are a standard video surveillance camera type that uses coax cable to transmit High Definition (HD) Video to DVRs and other storage devices. AHD systems come in a variety of bullet and dome housing, with lens, storage and aspect options to suit all environments.  
 

Because AHD cameras tend to record to storage devices, they could be regarded more as a deterrent and reference, or even evidence-based solution. The footage is viewed and analysed either in realtime onsite or through footage playback, following an incident.

IP Cameras
IP Cameras, or Internet Protocol Cameras, are webcam-style digital cameras, meaning they transmit and receive data over a network. In most cases, that network is the Internet.

Like AHD Cameras, IP Cameras come in a variety of styles: dome, bullet and turret housing, with a variety of lens and aspect resolutions to suit any indoor or outdoor, near or close-field application.


When staff levels are low and working from home, you can consider additional features, including Smart IR for enhanced night vision, and an impressive array of remote monitoring options that enable staff to monitor the CCTV system from desktop or mobile devices. We can even configure systems that remotely control doors, lights, gates, PA Systems, complete with SMS and alarm notifications.  


So if you're wanting to factor-in offsite surveillance into your business, perhaps over a lockdown whilst most staff are working from home, then an IP CCTV solution may well be the best option. Your IP CCTV system can be configured in conjunction with desktop computer monitoring options, as well as smartphone app options for all-around ease of access.

To learn more about both AHD and IP CCTV, as well as the plethora of units and additional features to suit your business demands, click here to speak to a CCTV expert now!