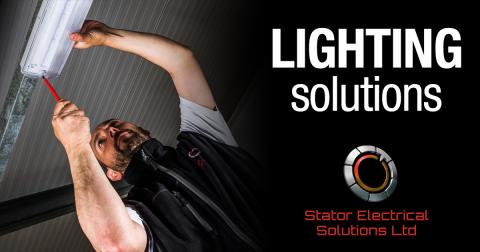 Commercial buildings come in all different shapes and sizes.
Constuction of a commercial building can either be speculative where the ultimate aim is to provide a core construction with no real idea of the end tenant. New tenants will essentially have a "blank canvas" which will require further interior work by the tenant to bring the building to the specification desired also known as a "Category A" construction.
The other method of construction is a bespoke design where the client knows exactly what they want and the building will be commissioned in line with a specific design.
Regardless of the project starting point when working out what can be delivered its important to consider the specification, location, capacity and budget. On most commercial projects its normal for good quality lighting installation to account for 3-5% of the project budget.
 A "category A" project needs an adaptive approach for the tenant to carry out a conversion to the required layout and facilities for their business including the commercial lighting solutions. Tenants will also want the option to modify the space and lighting solutions as needed during the tenancy. It's also useful when completing a commercial lighting installation to allow for lighting to revert back to its original state as is specified in most tenancies.
In order to make the space as appealing as possible to market to prospective clients a good lighting installation is key.
CAT A Lighting Design and commercial lighting installation should consider the following:
The quality and coverage of electric lighting to the lettable space
The consideration of daylight as part of the lighting solution. Natural light is the best form of light and can be used to benefit the space.
The minimum targets for energy efficiencies in the building regulations for lighting energy usage, however this should never impact the quality of the light delivered.
Effective lighting controls can help create different lighting levels or save energy, this can be useful in meeting and seminars or when delivering presentations.
Choices of fittings and fixtures should be confirmed early in the design phase, a later change can result in additional costs.
Awareness of ongoing support and serviceability of the light fittings selected, budget light fittings are often sealed with no onsite access to serviceable parts and therefore have to be replaced in their entirety which can lead to newer installations looking out of place when they don't match completely.
Commercial lighting solutions take into account the property internally and externally.
Internally the business will want to make good impressions to visitors and provide an effectively lit space for their employees. Externally footpaths and carparks will need to be well lit for both health and safety requirements and to provide an effective background for CCTV.
Statement lighting may also be used to highlight corporate signage or showcase the buildings features - although it's important to ensure that the external lighting is compliant with the rules around limited light pollution.
Emergency lighting is required by law for commercial buildings and has to be maintained and fit for purpose in the event of being required to operate under emergency conditions. This is the legal responsibility of the person responsible for ensuring the emergency lighting and other health and safety fire related items and services ready for operation at all times during occupation of the premises. Prosecution can be brought forward where upon inspection emergency lighting has founds to be in disrepair and not fit for purpose.
All commercial lighting projects needs to be individually assessed and consideration needs to account for the specific tasks and requirements of the property. Requirements for appropriate lighting have developed over many years adapting to changes in technology and energy consumption along with compliance with health and safety.
Getting in touch with an experienced commercial electrician is the first step when undertaking commercial lighting projects. This is the only way to ensure that the final lighting solution meets the less obvious compliance requirements but also benefits workers and visitors alike.