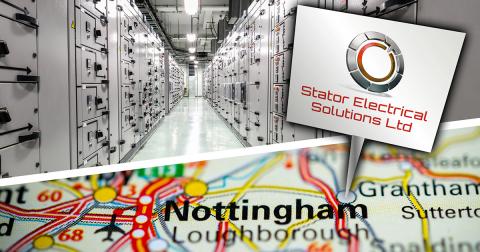 Our team of experienced commercial electricians can carry out all electrical jobs on your shop, pub, office or any type of workplace. We know that time is money and want to prevent as much lost custom or production as possible with the minimum amount of disruption when carrying out jobs for you.
Customer satisfaction is our top priority. We are committed to keeping sound working relationships with each client and all prospects. A high percentage of our client base is from repeat business and referrals. We welcome the opportunity to earn your trust and deliver you the best service in the industry. We aim to provide a quality, flexible service to your company. Our experienced electricians can meet all your electrical needs from a simple extra socket to design and installations of a full new electrical distribution system. New machines? Contact us for a fixed price quotation for the new phase 3 supplies. All services are completed with the minimum disruption to your business.
Fire Alarm Installers
We design and install fire alarm installations in accordance with B.S. 5939, and test in accordance with the statutory requirements. We have many existing maintenance contracts looking after a variety of installations. Each installation is assessed taking into account the standard of protection required, life, property or both. Installations can be either analogue, partially, or fully addressable, dependant on client requirements.
Our Testing services.
We specialise in Electrical Installation Condition Reports - EICR's. (Previously called a Periodic Inspection Report PIR's) As an approved NICEIC contractor, we can provide reports for all types of property and any purpose including property sale or purchase, insurance policies, change of use, tenancy or peace of mind and awareness of the overall condition of your electrical installations and systems.
With over 25 years if experience within the electrical testing and installation industries we can ensure that your tests are completed safely and accurately with a full report provided in a PDF format for convenience and a printed copy. Our experience makes us experts in electrical fault finding and rectification. We carry the correct equipment and tools to be able to detect and locate any problem within an electrical wiring system. From this point we can advise and provide a quote for the fault to be rectified.
We work with businesses across many sectors including commercial landlords, managing agents, developers, home owners and end users.
Electrical safety is our priority.
Portable Appliance Testing (PAT Testing)
Accuracy and thorough PAT testing is highly important. We can assure our clients that our engineers will open and inspect every plug to check for the correct wiring, ensuring all terminals are secured and that the correct fuse type is fitted. Appliances are then tested with the most advanced calibrated test equipment available. Upon completion we provide clients with a PAT test certificate, schedule of items inspected and detailed test results which we can provide in any format that you require.
Lighting services
We encourage the use of energy efficient LED lighting to save our clients' money in energy costs and also help the environment. LED lighting lasts much longer than other types of lamps and fittings meaning less maintenance is required. LED lamps hold their output levels for much longer so will keep your work place brighter for longer.
We can also offer advice on how to obtain grants or earn cashback from the government by saving energy.
Office Lighting
The most common lighting in offices is recessed modular lighting which is installed in to false ceiling grid systems. We've installed many thousands of these, and upgraded to LED panel lights to help our clients to reduce costs, save energy and improve the lighting in their buildings.
Many of our clients have chosen to have internal floodlights or uplighters installed to create a different feel and mood within their property.
We work with our clients to find the most suitable lighting to meet their needs.
Display Lighting
The correct lighting in the retail environment is essential. It has been proven that if lighting is not suitable, products will not sell!

Floodlighting (External)
External lighting is often a matter of health and safety and businesses have an obligation to meet the requirements. Installation and maintenance of good external lighting gives your prospects a great impression of the business and the values that it holds. Have you thought about how your business looks to others who only see the outside of the building?
We often work to maintain or improve the external lights for health and safety reasons but also to improve functionality. Working with leisure facilities, car parking and storage facilities means we regularly provide suitable lighting solutions to give the best light levels for sports, security, events and marketing.
The best light levels are crucial to leisure or sports facilities. We regularly provide suitable lighting solutions for sports, events and other activities.