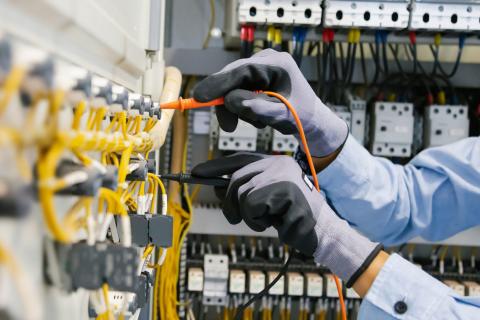 If you're looking for an electrician to undertake commercial installation or maintenance tasks, you need to make sure that you hire someone with the appropriate experience and qualifications for the job. 
Stator electrical are experienced commercial electricians in Derby, we know how important it is for businesses to be able to run normally and from our experience we know this is only achievable with the assistance of a qualified commercial electrician. Time is money and extended downtime can be costly. 

It's a common assumption that once an electrician is qualified, they can do it all. However, this is incorrect and a commercial electrician has to achieve further qualifications to enable them to work in a commercial environment. Commercial electricians often work with complex machinery and unusual voltage requirements, with lots of equipment running 24 hours a day 7 days a week there are many additional considerations to be made when working in a commercial environment as well as being in line with government health and safety legislation. 

 A large demand for commercial electrician in Derby is to provide electrical installation services to organisations in a range of industries, there's an extensive range of services your commercial electrician can advise you on including:

Lighting designs and upgrades

Lighting systems can become very complicated in larger facilities, with the need for not only standard lighting but for outdoor and safety lighting too.
Anything from new installations of new lights or a refurbishment of an existing lighting design, a commercial electrician will be familiar with the safety requirements and will be able to advise the most effective and efficient solutions available to you.

Electrical installation condition reports

As with many things, electrical installations have a limited lifespan and must be regularly inspected to ensure that they are in good working order and safe to use.
Regular inspections allow you to avoid dangerous situations in the future and prevent downtime caused by electrical faults or condemned equipment. Reporting is also important when it comes to providing proof of your due diligence in the event of an incident, helping to reduce insurance costs and compensatory pay-outs.
A commercial electrician can provide a report with details of recommendations, safety warnings and ways to improve the efficiency of the installation. 

Power, containment and distribution

Commercial facilities often have extremely high-power requirements, and it's therefore absolutely essential to ensure that the people responsible for the electrical installations are experienced in these higher loads. A domestic property runs on a single core supply whereas commercial buildings will generally use three-phase power. This means that the cables contain three live wires instead of one, allowing more current to flow to equipment that requires a lot of electricity – a necessity in a commercial environment. All live wires need to be safely contained to prevent risk of injury however there still needs to be access available for regular or emergency maintenance.

Fire detection, design and installation

A fire detection system is an essential legal requirement in commercial buildings. A commercial electrician can design and install a fire detection system to ensure the safety of your people and premises. A commercial electrician will have in-depth knowledge of the latest Health and Safety Legislation along with experience to enable them to install this efficiently. 

Electrical renovations in existing premises

if you plan on renovating the electrical installations in an existing building you will need an assessment of the current installation, the removal of old fittings and the replacement with new ones whilst ensuring the structural integrity of the building and the safety of any alterations. This is a big task, and usually well out of the remit of a domestic electrician.

Electrical installation certificates

New electrical installations should be carried out by a registered electrician and an electrical installation certificate issued. The certificate states that the new installation, alteration or addition is safe to use at the time it was installed and is important for your health and safety records.