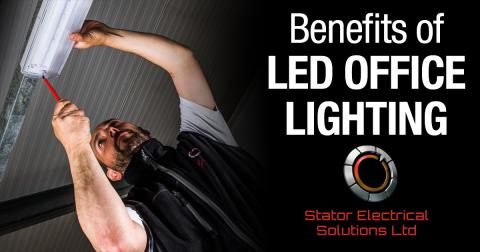 At Stator Electrical Solutions we strongly believe in the benefits of energy efficient LED office lighting and have been involved in the design and installation packages for many clients. Feedback continues to be highly encouraging with our clients so impressed with the change they allow us to see the difference between their energy bills before and after the work has been carried out.
Our experience, product knowledge and customer feedback enable us to demonstrate to our potential customers both the lighting level and financial benefits of having LED lighting installed in your office areas. We can provide samples of recessed and surface fluorescent equivalent light fittings along with a presentation to demonstrate how much money you could save over time by converting to LED office lighting as well as your return on investment.
In most cases there is no need to rewire the lighting circuits as LED lights produce the same of more light output than the fittings they replace.
In today's world with energy prices on the rise with the future uncertain, upgrading to this type of lighting is a "no brainer" for every business. It's no secret that the installation may be more costly however the main benefit of LED office lighting is that they use less than half the energy of your current fluorescent or halogen lighting.
 Another benefit of switching to LED lighting in your office is increased staff performance. A number of studies carried out have found that the simple switch to LED lighting can increase performance by at least 3% having an influence on energy, mood and vitality amongst employees in the workplace. Some studies have reported a 5% increase in reading speed and a reduction in spelling errors.
Whilst natural light provides optimal lighting, Intelligent LED Office lighting is the next best thing providing the closest alternative available.
One of the top complaints from employees in offices with fluorescent lights is glare and eyestrain which are a major cause of headaches which in turn can lead to sick leave. This is dramatically reduced with more efficient LED lighting.
When you combine all the benefits of switching to LED lighting in the office, upgrading to LED lights can be a very important source of savings with work productivity increased, increased health, happiness and overall morale of office employees and an overall better office workplace as well as energy savings of up to 90% by switching to LED lighting.
It simply makes sense.
Switching from traditional office lighting to LED lighting has never been easier. Stator electrical solutions are on hand to guide you through the various possibilities to ensure you make the most of the benefits of LED office lighting in the best way to suit your individual requirements.