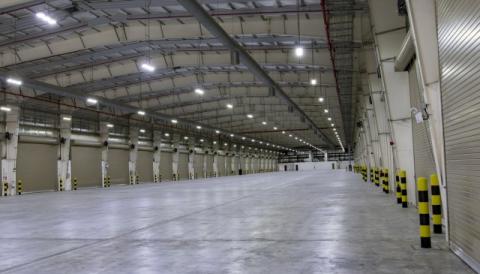 When it comes to warehouse lighting, it is important to choose the right fittings in the right locations.  Ensuring that the lighting is sufficient for workers is essential for their health and safety, and when is it just right, workers feel energised and productivity improves.
If you have a commercial warehouse, the chances are at least 40-50% of your energy bill is for lighting costs.
Here at Stator Electrical Solutions Ltd, we encourage our customers to use energy efficient LED lighting which will save lots of money in energy costs and also help the environment.
Today in the UK, there is no alternative that matches the outstanding performance of LED Lighting; it's the most effective technology to dramatically reduce your energy consumption and costs.
LED lighting is ideal for lighting warehouse facilities.  It supports a safer, more comfortable working environment.  The bulbs reach their full brightness as soon as you flick the switch, unlike traditional bulbs which can take time, making them far more practical.  They're also much greener because they're made from non-toxic materials and can be recycled instead of going into landfill site.
Other types of warehouse lighting such as metal halide low or high bays, fluorescent tubes and halogen flood lights all have LED equivalents which are more energy efficient.
LED fittings offer much more flexibility too, with the ability to manage things like lux levels, dimming and timing for each light or group of lights.  
Energy savings can also be made by using motion sensors to turn off lighting when nobody is about.  Daylight harvesting sensors can be used as well to maintain light levels when daylight is available.
We also offer advice on how to obtain grants or earn cashback from the government by saving energy.
Call us today to discuss your warehouse lighting solutions.