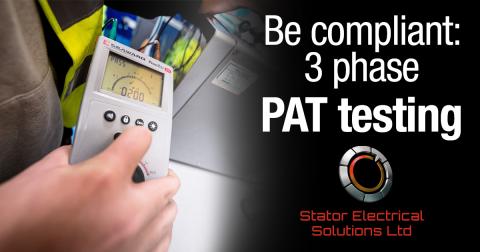 If your business is classed from light industrial upwards and uses professional machinery, the chances are your electrics are three-phase. In other words, in premises where higher voltages are required, for machinery including induction motors, electric motors and other heavy loads, the electrical system will be three-phase. Whereby the default is single-phase power which only has one "live" wire, in a three-phase system, three live wires carry and share the electrical load. As we use an AC system, three-phase systems allow voltages to be easily stepped up using transformers to high voltage for transmission, then back down for distribution, therefore giving higher efficiency.
Three-phase electrical systems are more economical than standard two-wire, single-phase circuits, and just like the electrical items using single-phase power, electrical items that run using three-phase electrical supplies must be periodically tested. Stator Electrical Solutions is one of the few commercial electricians in the East Midlands that specialises in three-phase Portable Appliance Testing (PAT Testing). Three-phase electrical items, like single-phase items, require PAT testing by a qualified electrician and must be tested using specialist three-phase PAT test equipment. The Stator Electrical team of engineers is specially trained to carry out three-phase PAT testing.
Stator Electrical Solutions comprises an expanding team of highly qualified Commercial Electricians who provide electrical compliance, remedial work, fault finding, and all types of rewiring, upgrading, and of course, three-phase PAT testing. 
Stator Electrical is an NICEIC-approved contractor, is CSCS-registered, is Part P Electrical Safety-registered, is part of the Electrotechnical Certification Scheme, is TrustMark-registered, and is Safety Schemes in Procurement registered with SafeContractor Accreditation. Therefore, when it comes to ensuring that your expensive three-phase electrical equipment is PAT tested and safe for use, choose the best Commercial Electricians near you. 
Click here to get in touch with a member of the Stator Electrical Solutions team now!