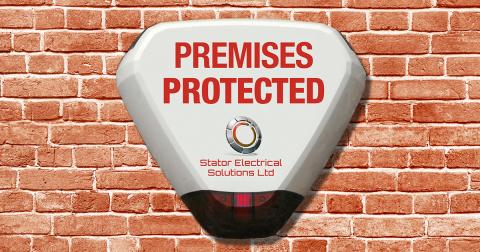 We've previously detailed how, due to lockdowns and COVID-19 restrictions, Midlands-based businesses have never been more in need of heightened security. With lower staff numbers on sites, and business units left un-staffed for longer periods of times, there's a firm argument for reviewing and enhancing security systems. An alarm system that is effortlessly operated and that demonstrates to potential intruders a secure property is well worth a little research.

With around 60 per cent of burglaries using forcible entry to gain access, a further 30 per cent are the result of entry through an unlocked door, window or other openings. Visible security measures, including alarm units and CCTV cameras, are known to reduce the chance of a property being targetted. However, if your business has already been subjected to burglary, statistics demonstrate that, unless you have put adequate security measures in place, you will likely suffer a second incident at a future date.

We've examined CCTV video surveillance systems in a previous article, and can provide a system to suit any business type, size and location. But which alarm system is the best for your business?

Alarm Systems for Small to Medium-Sized Businesses
We supply, install, and service most leading brands of alarms.  

Why not consider taking your entire business security system online with one of our smart alarm solutions?
A two-way

wireless platform will provide you with enhanced security over a significantly large range. Wireless installations can be fitted throughout small, through to multi-story, and even large commercial facilities

SecureComm Cloud is just one system that will enable you and your alarm installers remote access to the system

Many systems provide a mobile app to deliver alarm alerts, images, and messages directly to your smartphone, and you can set and unset your alarm from any location

Alternatively, we can provide the SecureWatch wired range of security equipment, amongst others
Alarms For Larger Premises
Larger commercial units will enjoy enhanced security with the SecureWave SW 10270 HKC Hybrid Panel. With 10 wired zones and wired keypad, up to 200 wireless devices might comprise intrusion detectors; control panels and packs; communicators; life and personal safety devices; sounders, and more. 

Without a doubt, a truly bespoke system awaits your business. We can install and help to maintain an alarm system suitable for all types of business premises, no matter the industry, no matter the size. Click here to discuss your security requirements, speak to a Stator Electrical Solutions Ltd alarm and security specialist now!