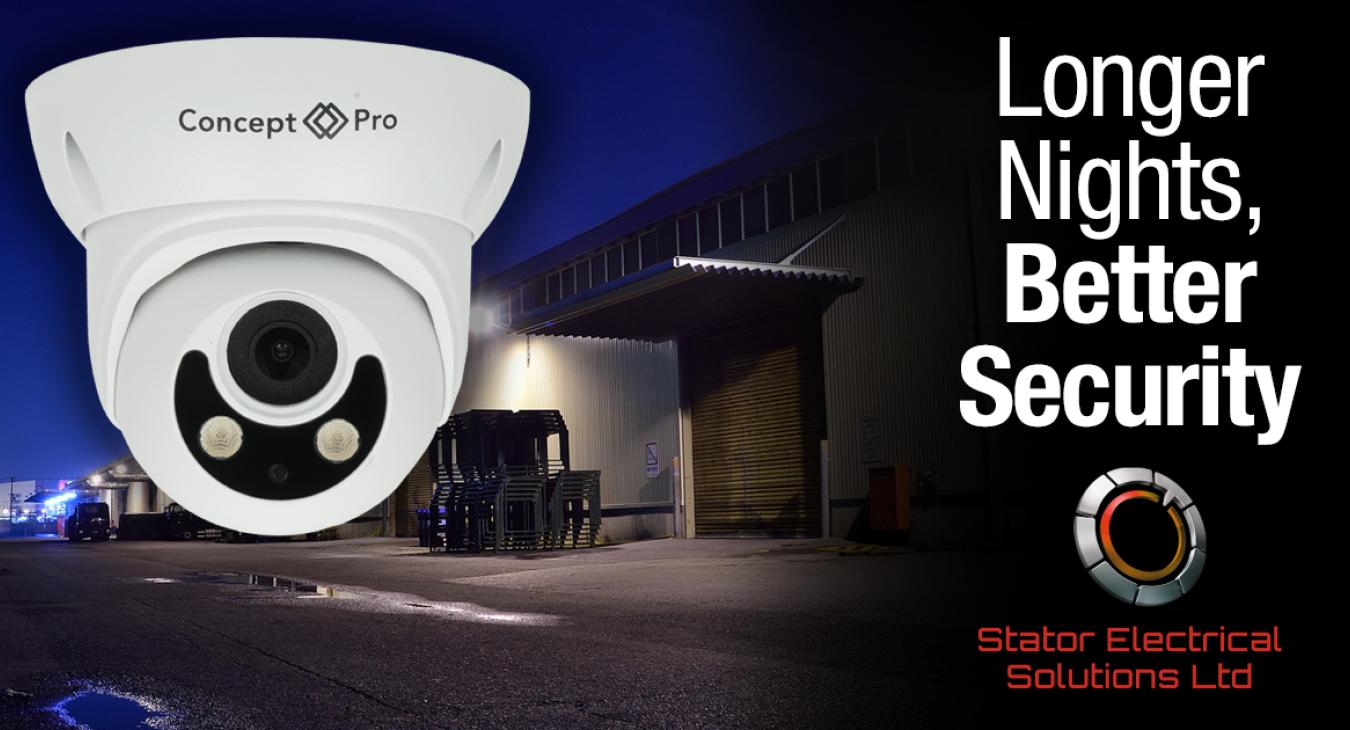 We're past the equinox and the clocks change on 29th October. As the nights draw in, this adds to security and safety considerations for all East Midlands businesses. However, 2023 is a great year to consider the CCTV options available to put you in control of your premises, come rain or shine, night or day. 

Stator Electrical Solutions has been at the forefront of business security and CCTV solutions for a number of years. Advances in technology and subsequently improved affordability mean that now's the time to consider the ideal solution for you.  

Let's look at the overall business benefits of installing CCTV… 
Enhanced Security
CCTV systems act as a visible deterrent to potential intruders, vandals, and thieves. As the East Midlands experiences shorter daylight hours during the winter months, this provides increased cover for criminal activities. CCTV helps mitigate this risk by providing round-the-clock surveillance and recording, ensuring the safety of your premises.
Reduced Vulnerability to Break-Ins
With the East Midlands experiencing lower light levels during the evenings and mornings, businesses across Nottinghamshire, Derbyshire and Leicestershire become more vulnerable to unauthorised access. CCTV cameras equipped with low-light and infrared capabilities can capture clear footage even in these challenging lighting conditions, providing invaluable evidence for law enforcement.
Employee Safety
CCTV systems not only protect your physical assets but also contribute to the safety of your employees. In the East Midlands, when visibility is compromised during the winter months, having well-lit and monitored areas can help prevent accidents and enhance employee confidence. Real-time Monitoring. Modern CCTV systems offer remote access, allowing business owners and managers to monitor their premises in real time, regardless of their physical location. This capability is beneficial in a region like the East Midlands, where rapid response to incidents can be crucial.
Enhanced Productivity and Accountability
CCTV not only serves as a security tool but also as a management and productivity tool. It encourages employees to stay focused on their tasks and can help identify areas for improvement in workflow and efficiency.
Evidence in Legal Matters
In the unfortunate event of a security breach, accident, or dispute, CCTV footage can provide crucial evidence to support your case in legal proceedings. This documentation can save your business from potential liability and financial losses.
Customised Solutions from Stator Electrical
CCTV systems are highly adaptable and can be tailored to suit the specific needs of your business. Whether you require high-resolution cameras, low-light capabilities, or a comprehensive network of cameras covering all angles, CCTV can be customised to meet all requirements.  

The Stator Electrical team works closely with all leading manufacturers and suppliers. That means that we have a working knowledge of all new and leading CCTV solutions for business. Our staff are well trained, extremely customer focussed and close by all businesses throughout the East Midlands. We're a highly accredited business too: We're a NICEIC-approved contractor, Part P Electrical Safety Scheme-registered, and we're TrustMark scheme registered with all of our team members being regularly criminal checked. You won't find a more highly qualified, professional, safe and friendly team anywhere in the country.  

To find out more about the right CCTV system for your business, speak to a member of the Stator team today. Click here now!