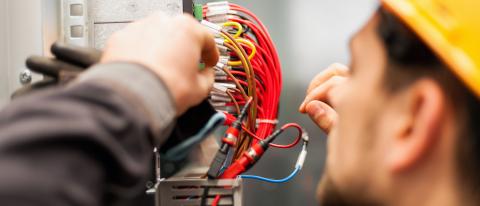 The reasons for businesses looking for an industrial electrician in Nottingham and Derby can vary hugely – never underestimate the many reasons it's good to keep an industrial electrician on hand. Time is money and if you find yourself up against electrical issues it's important that the issue is resolved as quickly and efficiently as possible to minimise the downtime and potential loss of revenue. 
Emergency situations aside a common reason to seek an industrial electrician in Nottingham and Derby is often for new or updated fit out of business premises. Many businesses have had a shake up during the last two years which in many cases means new premises or upgrading current premises to support new ways of working; or even just to keep up to date with a fresh and new feel now that things are finally feeling a little more "normal" - whatever that is these days!

Stator Electrical Solutions are experienced industrial electricians in Nottingham and Derby with many years' experience working with businesses and supporting with electrical fit out work. Providing shell and core, category A and category B fit outs we work with our customers to make their commercial and industrial space suitable for their needs. Over the years we have worked across a wide range of industries delivering high quality fit out services. 

Our team are highly skilled and experienced NICEIC industrial electricians working to the 18th edition of the IEE Wiring Regulations and all our operatives are fully trained and hold up to date certification in their implementation. We will work with you to understand your requirements, design ideas and will endeavour to deliver what we promise within your ideal timeframe.

Adequate lighting is essential to the day-to-day operation of any businesses and it's important to ensure your lighting is meeting the requirements of your employees and customers. As experienced industrial electricians in Nottingham and Derby we have worked on may projects from Retail lighting, office lighting to security lighting or full factory fit out. Our experience enables us to provide the information you need to achieve the most energy efficient lighting solutions to be both cost effective and high performance.

No two places are exactly the same so it's important for us to understand your business needs and requirements and we tailor our service to achieve this. We are able to manage your project from initial planning and design right the way through to final installation and certification. 

Did you know Industrial Electricians also offer maintenance contracts?

An electrical maintenance contract gives you the business owner the peace of mind that all of your safety inspections and certification is all up to date. Everything from PAT testing to EICR services can be covered in your plan. Service plans can also enable you to avoid the additional costs for emergency call outs and ad hoc repairs. It's also a well-known fact that routinely maintained appliances perform better for longer, again saving you money on replacement equipment and installation. 

For industrial electricians in Nottingham and Derby give Stator Electrical Solutions a call today for a no obligation chat about your needs.