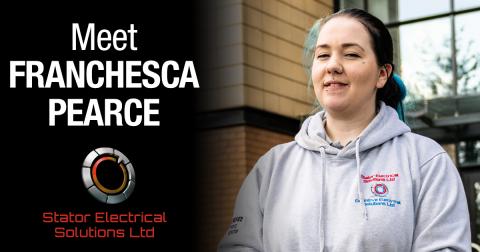 The world of a Commercial Electrician is like a game of chess, they say, or at least to the newest member of the Stator Electrical team, it might well be. Largely because that's her nickname: Chess. But to Electrician-extraordinaire, Franchesca Pearce, she executes every job with the confidence and foresight of a chess grandmaster.  But then sometimes, as a recent interview highlighted, she also has a lighter side, which, together with her commendable skillset, makes her an ideal addition to the Stator Electrical team.

Brought into Stator Electrical to facilitate our continuous growth and to add to Stator's already extensive portfolio of electrical skills, Franchesca brings with her a background in Operations Management.  Chess, as she's known, likes travel, camping, live music and appreciates a good sense of humour.  Her dislikes include 'know it alls' and people who 'take life too seriously'. Although, a previous WhatsApp conversation did in fact reveal her likes to be cold beer, and dislikes warm beer. Oh and men and plumbers were mentioned in some capacity (no electrical pun intended), but we'd rather not elaborate.  Strong ties with our extended trades associates are imperative.  OK, we've started covering this, and it was supposed to be a candid and frank exposé.  Therefore, please note that the next few comments are not necessarily the beliefs and opinions of Stator Electrical.  There was mention of "insulate Britain, communists, *CENSORED* on my garden, the inflation of wages and the tooth fairy…"  Her special skills outside of the electrical realm, unlike the aforementioned categories, are not "work worthy". 

Her favourite tool is a close call between the Knipex Multi and the Fluke Volt Stick. But again, a more revealing conversation highlighted her favourite tool to be "everyone else's".  Depending on which conversation you believe, and this author has read them both, the decision is yours. Please call us for a quote. Please?