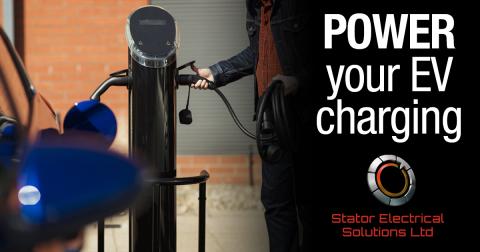 If you're planning to install or upgrade EV charge points throughout your business premises, be aware of The Electric Vehicles (Smart Charge Points) Regulations 2021. Having come into effect at the end of June 2022, this new legislation regulates EV charge points sold in the UK, helping to manage the increase in electricity demand from the country's transition to electric vehicles.
EV charge points sold in the UK for private usage (at both domestic and workplace locations) must have smart functionality, meaning they must allow the charging of an electric vehicle when there is less demand on the grid, or when more renewable energy is online. In addition to the June 2022 deadline, security requirements from schedule 1 of the legislation come into effect on 30 December 2022.
Stator Electrical Solutions has kept ahead of EV technology and legislative developments over recent years. Stator Electrical comprises a team of highly qualified, highly knowledgeable Electrical Engineers, located throughout the East Midlands area. Therefore, one of our engineers can reach any business premises throughout Nottinghamshire, Derbyshire, and Staffordshire in no time, providing you with all the advice and guidance you need to stay ahead of this new legislation
As mentioned, the new regulations stipulate that new EV charge points must be smart, meaning they possess the ability to send and receive information and can respond to signals to increase the rate or time at which electricity flows through the charge point.  Also, they must include a measuring system with visible results that calculates the electricity imported or exported, as well as the time the charging lasts. The security requirements, coming into force later in 2022, include cyber security standard ETSI EN 303 645.
Stator Electrical is experienced with all EV charge point brands, and our team is skilled in their installation and maintenance. All members regularly update their skill set, maintaining an understanding of all the new model requirements.
Assurance that your EV charge point is compliant must be made available by providing a statement of compliance and technical file, with a record of all sales for 10 years from the date the legislation came into force. To find out more about this new legislation, and to ensure that your premises are legal, efficient, modern and safe, click here to speak to a member of the Stator Electrical team now!