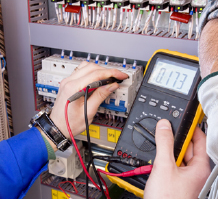 Electrical testing is required by all businesses regardless of size and restrictions. Now that working from home rules have been eased and many workplaces are returning to "normal" it's important for businesses to ensure they are up to date with electrical testing in their offices ensuring the safety of employees.
Due to restrictions in the last year, some businesses may have been under the impression that due to the pandemic and many workers not actually being present in the office that electrical testing timeframes may have been altered or extended. However, this is not the case as missed or delayed testing could potentially put employees or the business at risk.
The electricity at work regulations 1989 state that all electrical equipment in the workplace must be suitable for use and maintained to ensure it is safe. This however doesn't specify how often equipment should be tested and there's a lot of conflicting information about what items should be tested and the type of testing that will cover a business' legal requirement.
We recommend regular PAT testing and fixed wire testing as the best way to ensure you feel confident in meeting your legal obligations as a business owner.
PAT testing applies to portable electrical items such as kettles, drills, laptops and computers, fixed wire testing is relevant to fixed electrical installation such as heating or light systems.
Within BS 7671 it is recommended that electrical installations are tested every one to five years, however this is dependent on the type of electrical installation.
These frequencies are the maximum recommended, but this is at the discretion of the business owner and should depend on the type of electrical installation, how often it is used and whether it's in a low or high-risk environment.
In the case of offices, most require less frequent testing, approximately every 5 years is sufficient for a standard office environment. However, it's important not to be caught out by a "one size fits all" theory and to consult a professional electrician.
 A professional electrician will work with you to ensure you are complaint with your legal requirements surrounding electrical testing in offices, and will be able to advise correctly on which items need to be tested and how frequently and also the best way to maintain and get the most from your electrical system and appliances.