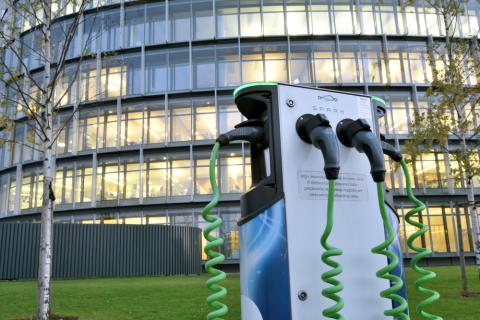 Vehicle sales data for 2021 has spoken. 

More battery-operated vehicles were registered in 2021 than in the previous 5 years combined – pretty impressive considering that overall car registrations were down due to the ongoing impact of the covid crisis and shortage of various manufacturing components.

This means at least 1 in 6 new cars is capable of being plugged in and 27.5% of the total UK vehicle market is now electrified in some way. 

It's estimated that for every 16 electric vehicles on average there is only 1 on street car charger available. With many more drivers believed to be on the verge of making the switch there is a clear growing consumer demand for accessible charging options and a need for commercial premises to implement electric vehicle chargers. 

Have you considered Commercial EV Charger Installation for your business?

EV charging stations are becoming a common fixture in public car parks and workplaces meaning employees and visitors can charge their electric vehicles quickly, easily and safely. 
There are 3 main types of chargers used to power EV's in the UK, most commonly referred to as "Slow", "Fast" and "Rapid/Ultra Rapid" which basically describes the different power output and therefore charging speed. Most public charge points are of the "Fast" variety. Ultra-rapid chargers are usually found in large shopping centres and service stations offering drivers an 80% charge in as little as 20 minutes!

To identify the best option for your commercial EV Charger installation a commercial electrician such as Stator Electrical Solutions are be able to advise you on what's available to you and the various benefits. Each EV charge point will require a different level of maintenance depending on the sector and the number of people using them. Generally, EV charging points require very little maintenance making them perfect for busy workplaces. 

Whilst most EV owners charge their vehicle at home, many will use public charge points to top up when their out and about so installation of an EV charger is a great step towards future proofing your business premises. It's also important to note that new building regulations in the UK require that in new non-residential buildings and non-residential buildings undergoing major innovations for those with more than 10 parking spaces will need 1 charge point for every 5 spaces. From 2025 existing non-residential buildings with over 20 parking spaces will need a minimum of one charge point. 
Consumers like easy and convenient service experience, if an EV driver is able to shop and charge their vehicle at the same time, they are more likely to spend more time at a particular destination, this will also keep them coming back – especially if you can offer faster charge rates than they can get at home.

If you are currently considering a commercial EV Charger installation and require advice or assistance in finding the best solution for you and your business, Stator Electrical Solutions are available to support you in all of your Commercial EV Charger installation queries. From design and installation, right the way through to full certification of completed work and ongoing upkeep and maintenance, Stator electrical are on available for all of your commercial EV Charger installation needs.