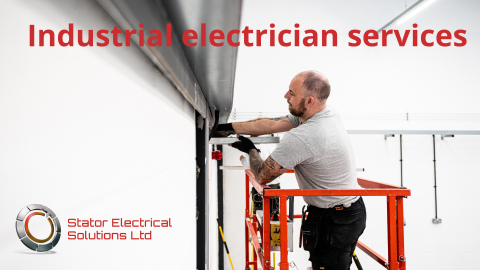 Commercial electricians. Electrical contractors. Industrial electricians. However you wish to describe us, the electricians at Stator Electrical have been hard at work providing commercial and industrial electrical services to businesses across Nottinghamshire and Derbyshire. Our NICEIC-approved engineers provide the full range of electrical contracting services to fulfil the electrical needs and requirements of businesses across the region.
Commercial and Industrial Testing
From warehouses and industrial units to office, retail outlets, leisure centres, student accommodation and beyond, our engineers provide electrical safety test services across Nottingham and Derby and the surrounding areas. Testing services include electrical installation condition reports (also known as EICRs or fixed wire testing), emergency lighting and fire detection testing as well as portable appliance testing PAT). We can also take care of any remedial work which is highlighted as a result of our inspections. Electrical testing services are essential to ensure the safety of all the people who visit your premises – whether they are employees, customers or tenants. Our NICEIC-backed certification can provide you as well as your insurers with the peace of mind that your premises are safe for use.
Electrical Upgrades for Commercial and Industrial Premises
Already this year, our electricians have been hard at work providing electrical upgrades for industrial and commercial clients. From upgrading the electrical supply to support heavy-usage machinery to improving warehouse lighting to energy-efficient LED lighting, the engineers at Stator have been helping businesses across the East Midlands. We are able to project manage your upgrade requirements and we are happy to work around the needs or constraints of your business. Our engineers are able to work at height and we can arrange for access equipment to be delivered to site to make reaching even the trickiest areas possible.  
Electrician Services for Landlords and Letting Agents
Of course, not all our commercial electrical work takes place in a commercial or industrial setting. Our electricians also support many landlords and letting agents across Nottinghamshire and Derbyshire. We provide testing services, such as emergency lighting and fire detection testing, as well as providing reliable and professional repair services to the rental sector. Stator Electrical can help you to manage your tenants' electrical requirements and issues from start to finish so all you need to do is provide us with the details of the job and we take care of the rest including contacting your tenant to arrange access.
Can we help you?
If you think we can help you with your electrical requirements for your commercial or industrial premises, give us a call on 0115 647 0335 or drop us an email with more details to info@stator-electrical.co.uk. Our experienced and knowledgeable engineers would be happy to advise you on the best way to achieve your objectives. Alternatively, check out our Knowledge Centre for more information on the many services we provide.