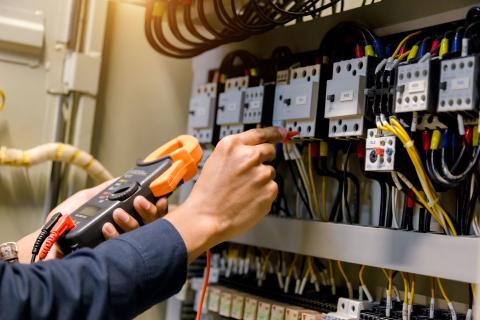 Sound electricity is often taken for granted. However, businesses cannot be complacent when it comes to their electrics with compliance being a close second. The majority of business owners are reliant on their electrics to be up and running to enable their workforce to do their jobs and safely. From offices to warehouses an electrical fault could lead to a much bigger problem or even put an employee in danger. 

Commercial electricians in Nottingham and Derby continue to be in high demand for this reason. As a business owner it's important to know that you have a capable and qualified electrician to hand that you can rely upon, bonus points for being a commercial electrician in Nottingham itself! Being local to the area means your chosen electrician will have a reputation in the local area to maintain and it also means in the event of an emergency distance won't be a problem. 

Stator Electrical solutions are commercial electricians in Nottingham and Derby. Whilst a lot of our work comes from repeat business or a personal referral it's not unheard of that we get a call from a business owner following a negative experience with another contractor. At Stator Electrical we understand the diverse range of work in the commercial field and are happy to offer our expanded skills and resource built on our knowledge of commercial work. 
Why choose Stator Electrical Solutions?

We work with our clients to arrive at the best solution to their problem. From scheduling maintenance or a new installation to an emergency, we work to ensure that you experience as little "down time" as possible. We don't want to be in your way or switching off your supply to do our work when you most need it! We are also committed to your safety and ensuring that all installations exceed the minimum standards required. 

As experienced commercial electricians in Nottingham, Stator Electrical solutions are able to offer our advice on workplace lighting – this can be to improve the general ambience or to be more energy efficient. We can ensure a new installation meets our client requirements and is carried out with the least disruption. We can also carry out regular maintenance to ensure you are getting the most from your installation. This can also include regular test certification to show that your premises are compliant with current standards as required by health and safety laws. 

Business owners are often keen to protect their premises and with the technology available in today's world it's more practical than ever to have a security system in place. From security lighting to CCTV installations as commercial electricians, Stator Electrical solutions are on hand to advise and work with you find the best options available to you that are suitable to your needs making your premises more secure.
Stator electrical solutions are commercial electricians in Nottingham and Derby, we are qualified to work to current standards & legislation BS:7671 18th Edition, and are able to evidence this. We have a diverse range of experience which enables us to confidently provide our services to a variety of clients. We pride ourselves on our reputation and work to build long lasting relationships with our clients. 

For any commercial electrician needs in Nottingham contact us for a no obligation chat and we will be happy to talk through your enquiry.